Writing a product comparison is just like writing reviews… a bunch of mini product reviews.
The only difference is you write a little less about the product, and add a lot more products.
​They are powerful. They can generate tons of affiliate sales and commissions.
And if you're looking for a way to make money with affiliate marketing and have not published your own product comparisons, now is the time.
Especially if affiliate marketing is your main income stream.
Don't make the mistake of not writing your own comparisons.​
So, in this post, I will show you how to write a product comparison that converts readers into sales. Affiliate sales.
Why The Product Comparison Review Works
As mentioned above, product comparisons are just like (single) product reviews.
Product reviews are crucial for affiliates. So it makes sense that comparisons are crucial, too. Possibly even more than the product reviews.
​Hundreds of people search for them and find them super helpful. And depending on your niche/topic, you can even see thousands of people reading your product comparison post.
And that's not even the best part…
They convert really well, it's insane.
Seriously.
Now, moving onto my 5-step guide on how to write a product comparison.
Let's have some fun.​
STEP 1
Pick a Problem
The first thing you're going to do is find something your readers are having trouble with. But it also has to be able to be fixed by a product or service (that you don't own, of course).
For instance, your readers are people who are just about to start their first blogs (super-newbie-bloggers).
So, what would their problems be?
Choosing a domain name registrar – since there are a lot of them around.
Choosing a reliable web host – again, since there are a lot of them around.
Choosing the best email marketing service – since list building is important and it's good to start right away.
So you'd go with something like this:
Best Domain Name Registrars
Best Web Hosting Services
Best Email Marketing Services
Right?
OK. Now it's your turn.
Think of something that your readers could use that'll help them solve their problem, then move onto the next step.​
Note: You can think of a rough headline while you're at it (like what I did above with my example). But you'll have time later for improvement, so don't spend too much time.
STEP 2
Find Several Products or Services
This part shouldn't be too hard for you, especially if you know your topic.
But if you aren't sure…Google it!​ Even if you are sure…Google it.
So, head over to Google, type in your product type, and hit enter.
​You could also search for other people's comparisons. This will give you a better idea at which products to feature in your product comparison.
A few good search strings would be:
best
top
2015
what is the best
Here's an example: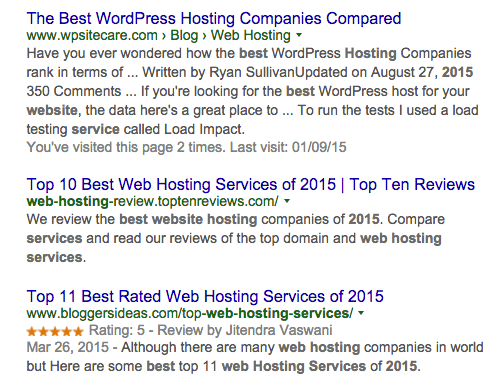 This is also where you'll be able to learn as much about the product as you can.
OK. Now it's your turn.
Here's what to do:
Find items to feature in your comparison post – do this by using the Google Search strings I showed you above.
Open up a word doc and write down every single item/product you find. You can use a 2-column table for easy note-taking.
Now, one by one, read up on each an every one of them. The more you learn about them the better.
Now you know a lot about each of them. So, from 1 to 10, rate each of them.
And when you're done, you'll have something that'll look like this: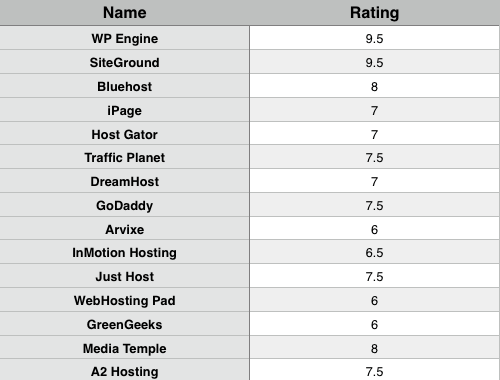 Now you're ready to move onto the next step.
Note: Try to break it down to 10 list items to feature in your product comparison. That way you'll have a Top 10 list, which has proven to be user-friendly.
STEP 3
Set it up
This is where the fun begins.
In this step, you'll be setting up your comparison review post.
This means you'll be creating your post template and getting at least one image per product/list item.
Here's what to do:​
​I'm assuming you're using WordPress
Login to your website admin panel and click the "add new post" button.​
​Now enter some sort of title. It doesn't have to be perfect. You can work on this later. OK?

The next thing you're going to do is type your 10 (or more) products into the blog post editor.
I'd order them ​from your rating…highest rated product at the top.
And wrap each of them in an h2 tag (heading 2).​
Next, you're going to finish up your product comparison template.
Add these to every item on your list:
[image here]
[intro here]
Pros:
Cons:
[conclusion + overall rating]
Like this: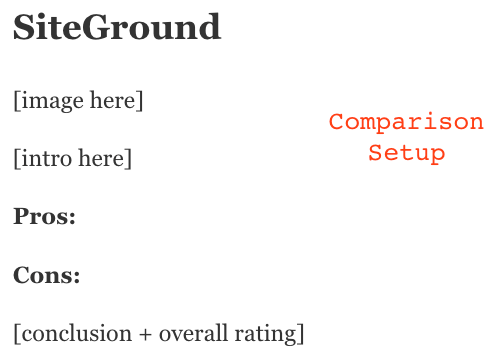 TADA! Now you've got a pretty good product comparison template.
The next thing you're going to do is look for OR create an image for each of your list items.
These could be the product owners ' logos or a screenshot of one of their web pages.
If you don't own a screenshot tool, here are some freebies:
​Jing
Snagit – free trial
Skitch
Awesome Screenshot – Google Chrome extension
Note: Image files are heavy these days. Especially PNG's and JPEG's and more if it's a screenshot. So, before uploading images to WordPress, run them through an image compression tool for a faster loading time (I'd go with TinyPNG).
STEP 4
Write it up
Now for the funniest part…the actual writing of the comparison.
Let's begin.
Starting from the top…​
Your Post's Headline
Your headline is very important. It's important because it's going to be what makes internet users want to click (both on the search engine results page and social media).
But your comparison's headline/title shouldn't be too difficult to write up. In fact, comparison headlines are one of the easiest headlines to come up with.
A great headline for a comparison looks something like this:​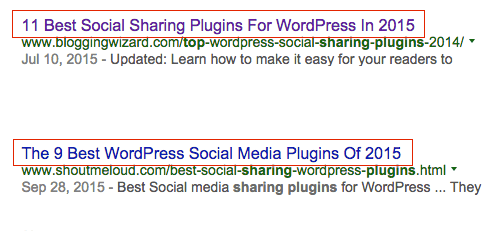 Do you see? If you were looking for an amazing sharing plugin, you'd click on those, right?
You see how similar they all are? Yeah, that's what I mean by writing a headline for a comparison review isn't too difficult.
So go ahead and write up a headline that's similar to the ones in the images above.​
If you're having trouble coming up with a click-worthy​ headline, try this simple formula:
"Top X" + "product type" + "year"
Your Post's Image
Your title image is almost as important as your headline…because it's going to be what makes the reader want to scroll down to your introduction.
So how do you create your own engaging photo?
​One word:
Canva.
If you haven't heard of Canva before, it's an advanced image creator/editor.​
Its drag-and-drop feature makes it the easiest image tool ever.
And that's not even the best part…
It's totally 100% free!
Did you notice the first image on this post? That was created using Canva. And so are all my other blog title and featured images on this site.
If you need help, but I'm sure you won't, here's a YouTube video tutorial on how to use Canva to create your own images.
Another way to go is the stock photo. You can find freebies at:
And what to look for is an image that relates to your product type. For example, if you're comparing home gyms you'd look for one that shows a person doing weights or something.
This won't be for everyone, though. So it's best to only spend a few minutes on this (if you decide to choose stock photos).
But after you've chosen and uploaded an image, you should have something that looks like this:
Your Post's Introduction
Your introduction is what makes the reader want to keep scrolling down to the good stuff.​
Your post's first several sentences/paragraphs are insanely important. It all has to be solid.
It needs to relate, or agree, with the problem the reader is having.
It needs to promise the reader that you have a solution.​
And it also needs to tell the reader what to expect, without entirely telling the reader the whole story.
Your Products' Title, Image, and Introduction
The first 2, title and image, do not have to be anything fancy.
The title is simply the product's name. And the image is simply the product's or product owner's logo.​
As for the introduction, it's important. But all you really need here are a few sentences describing the product.
You can include:
the product's background – founders, when it was founded, top merchants, etc;
the product's pricing;
your favorite thing about the product.
Your Products' Pros and Cons
Everybody wants to know the pros and cons of a product they're interested in.
So don't shy away from listing out your favorite products' cons here.
Try to come up with at least 5 pros and 5 cons for each of the products/items on your comparison review.
I know there are less than 5 each. But this is only an example.
Your Products' Conclusion, Rating, and Affiliate Link
This is where you'll give your final thoughts about the product. Your opinion. And whether or not you'd recommend the product to your readers.
You should also add a little bit about the product that are facts. For instance, a web hosting service called WP Engine, I'd say something like…
WP Engine is definitely a leader in the WordPress hosting industry. Their services are used by some of the biggest blogs on the planet, including Backlinko, an SEO blog that receives 100,000's of monthly visitors.
Then I'd move onto my own opinions. And then my overall rating, and cap it off with my affiliate link.
Putting it all together…
And you get a pretty good piece.​
Now do this with each and every product on your list, then move onto the last part of your post.
You're doing great!​
Your Post's Conclusion/Ending
Your last several sentences and paragraphs are just as important as your first.
This is where you'll talk a little about the whole post, like a few-sentence summary, and have a strong call-to-action.
​Here's what to do:
You have 2 options:
You declare a clear winner.
You recommend more than one product based on needs.
​Option 1 – you summarize the whole comparison post, give the reader your recommendation, then end it with a call-to-action (your affiliate link).
Option 2 – ​you summarize the post, and then give the reader multiple options.
For example…
​If you're looking for the cheapest, but not the best and still reliable, then
is your best option.
If you're looking for the absolute best and money is not a problem, then
is definitely for you.​
If you're looking for something super easy to use with excellent customer service, then
is totally yours.
Yay! You've done your comparison review.
Should you hit that all-magical publish button now?
N-O, no!
Why?
Move onto the step and I'll tell you…​
STEP 5
Proofread, Edit, and…Publish
After you've written up your comparison review post (first draft), it'll be time to whip it up into shape.
OK, I know what you're thinking…
Proofreading is like ugh!
But here's the deal:​
If you really want you to post to be as good as it can be, proofreading and editing are extremely important.
Proofreading will help you correct spelling and grammars errors.
Proofreading will help you reword or rephrase certain parts of your content so that it'll sound and flow better.
This is all-important so that your readers won't get turned off by some stupid mistake that could've been easily corrected.
And believe me, it happens.
Pro Tip: Don't publish until the next day. This will help you proofread one last time, only this time with a clear head.​
Here's a short comparison checklist:​
Does it have a compelling headline?
Does it have an awesome blog title image?
Does it have a solid introduction?
Does all you list items have a great sub-headline, introduction, image, pros and cons, conclusion, and call-to-action?
Did you end your post (conclusion) with a bang?
Pro Tip: For a better chance at ranking your comparison review in Google, optimize it for the search engines. Here's a detailed guide that'll walk you through the process of on page SEO.